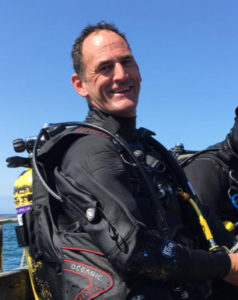 Chris's role as Secretary includes taking the minutes at Committee Meetings, handling Club correspondence and other administrative stuff. Chris joined the club in 2018 and has progressed through to Sports Diver. He recently did his 50th dive whilst on a club liveaboard trip in the Red Sea. As a child he always wanted to be an astronaut, but given he struggles to find a Drysuit that's long enough he's had to settle for underwater exploration and neutral buoyancy.
Most memorable dive moment: Coming out of the caverns at St John Caves and looking at the beautiful landscaped lagoon laid out in front of me. The colours, shapes, textures and marine life was simply breath taking (fortunately not in a literal sense).
Most embarrassing dive moment: Nothing yet, but it will happen.
Favourite pre-dive breakfast: It has to be a sausage and egg roll, and a cup of builders tea at Stoney
After a dive: Chris enjoys sitting in the sun and topping up the tan (at Stoney? – Ed)
When not diving: Chris can be found doing pretty much anything involving water; swimming, waterparks, kayaking, surfing and bodyboarding, SUP, and of course my Field Hockey, but preferably not in the rain.
You may not know: Chris loves auto repair and would like to do his own classic car rebuild one day