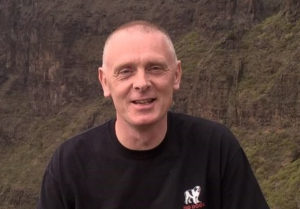 Simon joined the club in 2015 with his son Ben, and is now a Sports Diver.
Simon acts as the custodian of the pennies for the club, looking at all aspects of the financial management and working with the other committee members in helping to safeguard the future. He plans and budgets club spending and helps with investments in new equipment for the benefit of all the members.
Most memorable dive: There are 2 that stand out, my first UK sea dive with Sally on the Baggie (Baygitano) off Lyme Regis a crisp clear day with loads of fish life and excellent visibility, and with Ben in Tenerife feeding Butterfly and Eagle rays on the bottom.
Most embarrassing dive moment: not really had one yet but seen and heard about others!
Pre-dive Breakfast: is normally Porridge.
After a dive: in the UK eat something warm (Bacon sarnie at Stoney is always good) at the Red Sea this year I liked to lie in the sunshine to get warm.
When not diving: Being an Engineer by background, I can be found working on my old Landover keeping her on the road (and off), gardening or DIY.