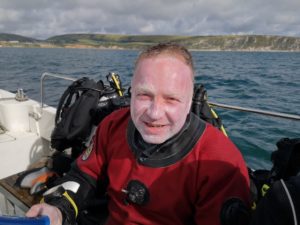 Simon is the Treasurer, responsible for anything and everything to do with the club's money and finances. He joined the club in 2017 and is now a Sports Diver and Assistant Diving Instructor, working towards Dive Leader.
Most memorable dive moment: Easy to say something exotic, but I still love seeing the pike at Stoney Cove; they are so beautiful and majestic. Helping with some training in near-zero viz was pretty memorable too…
Most embarrassing dive moment: A roasting hot day at NDAC. You have to get a minibus down to the water—everyone was absolutely broiling by the time we had loaded and then unloaded our kit. I was diving with my wife and suggested we do our buddy check in chest-deep water to cool down. Almost all the way through the buddy check, I realised I didn't have my weightbelt on; I'd left in on the minibus (and they had taken it back and dropped it off where the airfills are done). By the time I'd retrieved it I knew what a boil-in-the-bag cod feels like!
Favourite dive breakfast: Gallons of decent coffee
After a dive: Rehydrating with an ale or two
When not diving: Normally some sort of sport or other—cycling and tandeming, or playing football (youthful brain, old knees—bad combination). Moaning about Brexit, shouting at politicians on the radio/tv. Swearing (a lot)—it is big and clever!