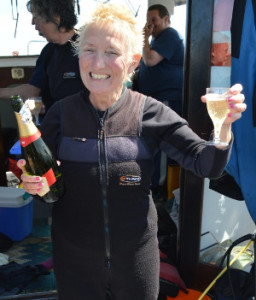 Sally's role as Secretary includes taking the minutes at Committee Meetings, handling Club correspondence and other administrative stuff. She is a Dive Leader and Assistant Diving Instructor and has been diving since 2001 when she first joined the Club. In 2015 she completed her 1000th dive.
Most memorable dive moment: There have been so many marvellous dives but notables include Cave Diving in Capo Caccia, Sardinia; Both Claudia Reef and Yolanda Reef in the Red Sea; Scapa Flow and most dives at The Lizard in Cornwall and Pembrokeshire.
Favourite diving breakfast: Having a "Fat Boy's Breakfast" in the airport before flying off on a dive trip abroad.
After a dive: Having a crab baguette between dives at The Beach House Cafe in Lyme Regis. However after diving's done for the day the odd tot of rum as a chaser to the inevitable red wine goes down well especially whilst sitting at the back of a Liveaboard.
When not diving: Sally can often be found on the river in her kayak.
You may not know: "No, you may not know, you'll have to ask the skeletons in my closet"