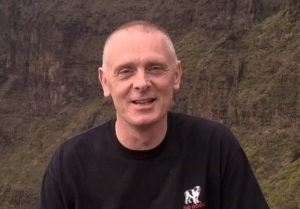 Simon's role as Secretary includes taking the minutes at Committee Meetings, handling Club correspondence and other administrative stuff. Simon joined the club in 2015 with his son Ben, and is now a Dive Leader. He recently qualified as an Open Water Instructor.
Most memorable dive: There are 2 that stand out, my first UK sea dive with Sally on the Baggie (Baygitano) off Lyme Regis a crisp clear day with loads of fish life and excellent visibility, and with Ben in Tenerife feeding Butterfly and Eagle rays on the bottom.
Most embarrassing dive moment: not really had one yet but seen and heard about others!
Pre-dive Breakfast: is normally Porridge.
After a dive: in the UK eat something warm (Bacon sarnie at Stoney is always good) at the Red Sea this year I liked to lie in the sunshine to get warm.
When not diving: Being an Engineer by background, I can be found working on my old Landover keeping her on the road (and off), gardening or DIY.