Not satisfied with it's already impressive quota of instructors and assistant instructors, Stratford Sub Aqua Club recently dispatched another three members to begin their training as instructors. Pete Talbot recounts the tale…
Ian 'Hoppo' Hopkins, Richard and Pete Talbot recently attended a weekend long instructor foundation course. It is extreme in many ways, not least the organisation of the whole weekend, which was extremely well planned and full on. This left very little time for breaks or even lunch; this was 15 minutes but you also needed to get kit to the pool and get kitted up!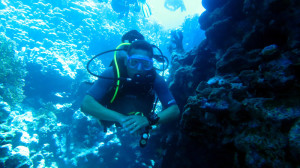 The first day started at 8:45am and was due to finish at 5pm. This would leave time for a civilised evening, a couple of aperitifs maybe, dinner, a glass or two of wine and a relaxing and leisurely evening. But what a shock was in store for us… 6.30pm finish and 2 hours homework and all after a day that was much longer than my normal working day!!!
The second day couldn't be so full on could it? Oh yes it could! It finished at 4.30pm and had been an 'extreme' weekend that left everyone exhausted, glad to get home and maybe even back to the office for a rest!
It was extreme… extremely good and really enjoyable. It also does you good to mix with divers from other clubs and backgrounds—then you soon realise just how very well Stratford trains it's divers. The course was for Sport Divers and Dive Leaders and was of all ages and experience. Some of the participants would not have stood a chance with Prich though! At the end of the weekend we were told that we were now Qualified Assistant Diving Instructors and that we were all 'holding the most up to date BSAC training methods' and we should help 'older' instructors adopt our recently acquired skills. I'll leave Rich and Hoppo to try and teach one old dog a few new tricks… guess who! And if they are brave enough to try, I expect there to be sparks flying, even in the pool!
Finally, this course was paid for by the club from funds and a grant provided by Sport England. Yet again we are grateful to be part of such an active club and now can't wait to be given the opportunity to teach our own trainee diver.
Pete Talbot