Easter weekend saw the club's first trip of 2015 as we headed off to Teignmouth in the hope of four days diving.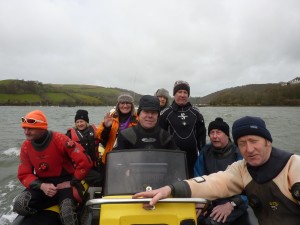 In the event Friday proved to be a bit too windy to be out at sea, but we made the most of it by launching the Hornet in Totnes and spending an enjoyable day pottering about on the Dart, stopping for fish and chips and a spot of shopping in Dartmouth.
The weather improved for the rest of the weekend—enough for one or two to be coming home sunburnt—and we managed to get three decent days of diving in. The water was chilly and the viz nothing special, and we had a few technical glitches with the GPS, but we had some enjoyable dives on the Galicia and on a relatively new wreck, the Emmstrom, amongst others.
We ate well in the evenings thanks to Andy Bacon's cooking. We hoped to grab lunch on Sunday at Babbacombe Bay but the café had run out of food so we had to dine on Easter eggs and simnel cake. Such hardship!
This was my first club trip and a great introduction diving with the club. Thanks to John Arthur for organising the trip and everyone there for making it an enjoyable weekend. Here are some photos…