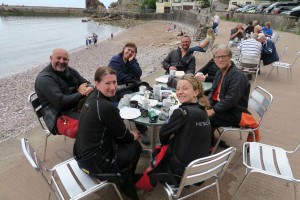 It was a beautiful weekend of calm seas and sunshine, excellent company and some tasty food and dancing until late. 11 divers and 6 non-divers braved the depths in Babbacombe Bay and all arrived home safely. We stayed in the updated and very comfortable Holiday park apartments.
The tides were with us, so entry from the shore, slip and steps was easy. On Saturday morning, we arrived at 8.30 in Babbacombe Bay car park and parked on the promenade, which is a special concession from Wayne the café owner who kept us fed and watered. We set up and the first divers were in the water by 11.00—just a bit of faffing about!! Peter Neal was dive marshal—so no problems there.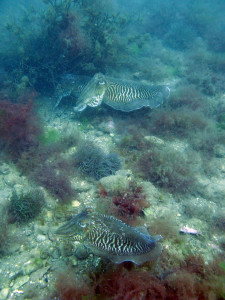 Some ocean divers had their first sea dive, which was completed without any major disasters, and we saw the cuttlefish—big, beautiful and shimmering in the sunlit water. The three of them hovered gently besides us, more interested in each other than the divers. The seal was around the harbour dipping and diving and some wonderful shots were had.
We dived in the bay and around the corner towards the cave—it was an excellent weekend for the newcomers.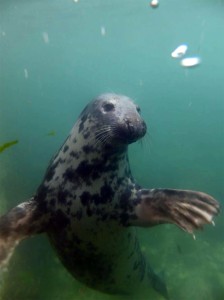 In the evening we dined, wined and danced—one comment 'However I think we should all be awarded with the "dance like nobody is watching" award', especially after Paul Nash, Laura and Tony Callow had their depth charge!!
Jeannie