The regular Isles of Scilly trip is one of the Club's most complicated logistical undertakings. Everyone works hard, but the rewards are fantastic. Here's Prich's account of this year's trip, and you can find more photos in the Scilly 2015 Gallery.
The Cast
The Old Scillonians: Richard Wells, Stan Russell, Andy Bacon, Jon Arthur, Geoff Russell, Miles Howarth, Hilary Wilson, Jon Hardman and Peter Virgo
The Scilly Virgins and Camp Followers: Emma Hardman, Krzysztof Piecha, Mark Jeffrey, Chris Hastie, Sophie Hastie, Clare Virgo, Chris Prichard
The Story
According to my log book, this is the ninth trip to the Isles of Scilly since 2003. As usual the Club RIBs are towed to Penzance, loaded with kit and taken with a crew across to St Agnes where we stay at the Troytown Campsite, owned and run by the Hicks family. The remainder of the party travel with the container with most of the kit on The Scillonian ferry that arrives 3 hours after the RIBs.
For the last two trips the Club compressor has been sited up by the milking parlour (sounds just a shade grander than cow shed) and the cylinders have been taken to and from the slip by tractor. This year we persuaded Tim Hicks that it would be more convenient for both of us if we provided the tractor driver and after checking our man's C.V. he agreed. Who on earth do we have with the credentials (and cool shades) that can drive a tractor to the satisfaction of Farmer Hicks?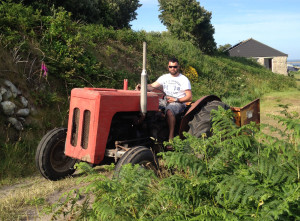 KP of course.
And so it came about that KP spent more time driving an old Fergie tractor (largely made of wood—Ed) than he did breathing off his new ScubaPro regulator!
Stan was in charge of food (rubbish as usual) (Really? It was some of the best I've ever tasted. Except for the lack of hoummous of course—Ed) with help from Andy and Geoff, Jon A was in charge of boats, Clare did more washing up than a saint, Sophie got so addicted to filling in the Dive Records that she even did it for Miles when his name was on the rota, Chris showed us how to tie a bowline one handed and everybody did their shift on cylinder filling which took upwards of 4 hours per day.
The Diving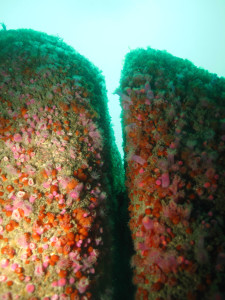 The viz was generally good at around 8–10 metres. We dived some of the old favourites like the Crims, The Italia, The Plympton/Hathor, The Zelda and Brinkburn and looked for and sometimes found The Firebrand. We had obtained permission from English Heritage to dive the two protected wrecks, The Colossus and The Association but only managed to dive the first of these. However when we got home we discovered that someone had reported that there were unapproved divers on The Colossus and that English Heritage were anxious to discover who it was. They were relieved when they discovered it was us and then re-assured the locals that we did have a permit.
In addition Harders continued his long search and found another part of the wreck of the Thomas W. Lawson, the largest ever 7 mast steel schooner to be built, which sank in 1907, and Miles and Mark found a swim through that they managed to negotiate by breathing in (not literally). We also dived The King Cadwallon and Broadneck.
We also dived Trenemene, where Jon Hardman took the shot of jewel anemones (there are more photos in the gallery). This site is at its very best in the early afternoon when the sun is in the south west and the colours of these jewel anemones and the plumose anemones that grow on top of the wall are outstanding. Rich Wells even said "it is in my top 5 five dive sites ever" and when asked if that was UK dives he answered "best 5 worldwide".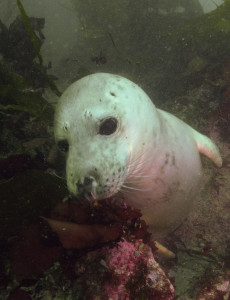 Yes this was Trenemene and it is such a pity that it became Quote of The Week. Geoff was responsible for the dive plans for the whole week and of course on days 1, 2, 3, 4 and 5 we discussed diving Trenemene. The problem was that for some unknown reason Geoff was unable remember or pronounce this name. He offered "Trelemene, Treleneme, Tremenele, Trenemele"and several times "Tremenene" and "Tremememe" but only on day 7 after we had dived it did he get "Trenemene"
Strange that Geoff seemed to be very keen on us diving a site called "Black Rock" where Jon Hardman said
"…the whole group went for a drift dive except for Emma and me. We tucked into the sandy bay, laid low and patiently one by one the seals arrived. The big mum first then her pups. It was Emma's first seal experience and we had them for 45 minutes."
Unfortunately Sophie missed out on the Trenemene dive because her suit zip was left half an inch open. Pete Virgo very kindly offered to give Miles lessons on how to close a diver's dry suit zip.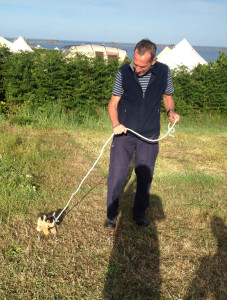 There were other pets on show. It is well known how keen Jackie is to have a dog but Prich is standing firm. However one of the wags thought it would be a good idea to tie up a present outside his tent one day. Prich decided to call his pup Geoffrey because "he's almost house-trained, he's small, barks a lot but is very genuine."
It is a very laddish tradition on these trips that the old guys give Harders a hard time. Over the years this has taken many forms including cutting down his hammock whilst he was relaxing in it or filling his sleeping bag with rocks. This year it took a new form. We had a "Be Nice to Harders Day" when everyone went out of their way to help him, be pleasant, wait on him at meals, top up his glass for him. It worked perfectly because he was in absolute torture, on edge all day fully expecting some major retribution to offset all this bonhomie. So much so that when Emma had to return home early for a work commitment she left this sweet note pinned to the notice board: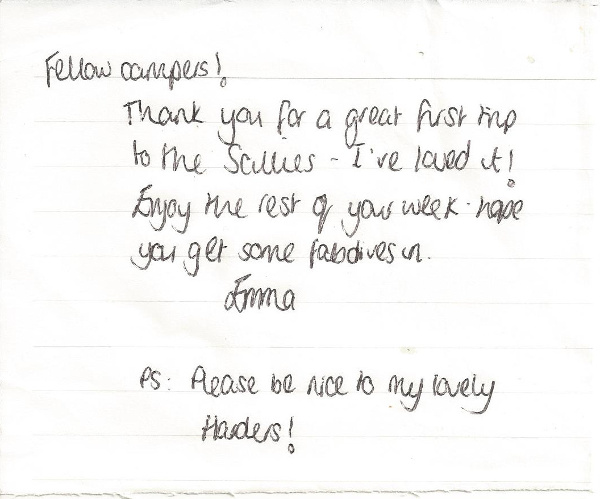 Emma, I can assure you that we treated him just as you would expect us to do!
We lost a couple of half days diving due to weather—fog, rain and wind. The rest of the time it was warm bright sunshine.
One thousand logged dives
One other landmark to be celebrated was Jon Arthur reaching 1,000 logged dives which he did when he managed to find The Firebrand.
The End
The homeward trip was on a flat sea and people were already talking about "next year's visit" from which you may correctly assume that they had a wonderful time.