A May trip to Sharm el Sheikh seems to have become part of the annual routine for Sophie and I in recent years and we decided that this year should be no exception. With no direct flights from the UK at the moment it's not as easy to get to as it has been in the past, but it proved to be well worth effort.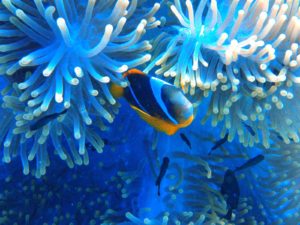 As usual we dived with and stayed at Oonas Dive Club. Oonas looked after us fantastically, from the moment Ahmed met us up at the airport to the moment he dropped us off again. More by luck than judgment we happened to pick a week when a small group of British divers had made the effort to get to Oonas, so there was a great crowd around to share the diving with and liven up the obligatory après dive beers.
We were treated to some fantastic diving during the week. As you might expect, the dive sites were much quieter than usual (except on one morning, when it seemed as if every diver in Sharm had dropped on to Shark Reef). A warm spring meant the water temperatures were about 3° higher than when we there last year, and some of the later season arrivals where starting to appear already. As well as all the usual suspects we saw huge shoals of snapper on Shark, a manta in the the Gardens, and snorkeled with a young whale shark one lunchtime.
It's really worth making the effort to get out to Sharm el Sheikh. There are few Europeans visiting at the moment and though there are still Egyptian and Saudi tourists neither the numbers nor spending power of these more local visitors are anywhere near enough to make up for the loss of European trade. The dive centres, hotels and restaurants all appreciate everyone who does get out there and make them very welcome, and the diving is as good as ever, if not better. Here's a video of some of our highlights:
Practicalities: getting there
Although there are no direct flights from the UK there are still a few ways to get to Sharm el Sheikh
Pegasus, via Istanbul
We flew with Pegasus via Istanbul. Pegasus fly from Gatwick and Stansted. It seems cheaper to book direct on the Pegasus website than to use brokers like Sky Scanner. Layovers in Istanbul can be quite lengthy, but as a Pegasus passenger for 48 Turkish Lira (about £11) you can access the LGM Lounge and slump in comfy chairs whilst helping yourself to food and drink.
Egyptair, via Cairo
Most people that we met had flown via Cairo on Egyptair. Egyptair fly from Heathrow and Manchester.
Via Milan with Meridiana
A more complex route that one friend has used is to fly from Milan with Meridiana. Meridiana have two flights a week from Milan, and several budget airlines fly to Milan from the UK, including FlyBe from Birmingham. Unfortunately you can't book this as a through flight, but will have to make two separate bookings. A night in a hotel in Milan may be needed too.
Via Hurghada
There are still direct flights from the UK to Hurghada, and three flights a week from Hurghada to Sharm el Sheik on Egyptair (Tuesday, Thursday and Sunday). I haven't met anyone who's done this, but it should be possible. Again, you'll need to book each leg separately.