Well actually, the hardboat way. Which some might say is the easy way. And I might even agree with them.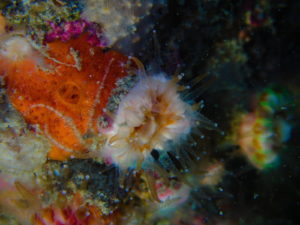 The club's traditional RIB trip to the Isles of Scilly isn't the only way to dive this wonderful UK destination and Sophie and I decided we would explore the alternative—a hardboat and local skipper. Besides, we had a wedding to go to on the Isles, so it made sense to make the most of things while we were there. And as luck would have it, it turned out that a neighbouring club, Banbury Sub Aqua Club, had a couple of spare places on a hardboat trip the week before the wedding. So early in September we hooked up with BANSAC and headed over to the Isles of Scilly for what turned out to be a fabulous week of diving.
BANSAC had chartered the Moonshadow, skippered by Jolene Williams. Jolene is an absolutely fantastic skipper who grew up around dive boats on the isles (her father skippers one of the other boats). She knows the sea like the back of her hand and was always able to find a site suited to the day's conditions. Her briefings were excellent, her tea pretty good, but best of all, the shot was always exactly where it should be. No arguments over the echo sounder on this trip, just a casual nudge of the shot through the wheelhouse window and everything was spot on.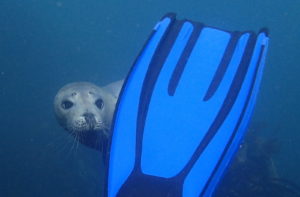 Scilly offers a great mix of diving. On the wrecks we started off with the bow of the Cita, a relatively recent wreck that went down in 1997. We also dived the King Cadwallon, a wreck I tried to dive a few years back and missed. Not only is the King Cadwallon an impressive wreck, but the ascent back up the reef brings a stunning carpet of jewel anemones. Another wreck I've previously failed to find was the Firebrand, one of the Association fleet lost in 1707, and great if you're a fan of anchors and canons. There was also marvelous value to be had with the Plympton and Hathor, two wrecks resting on top of each other. There were some fantastic scenic dives too, such as the stunning displays of plumose and jewel anemones at Trenemene. Finally we topped it all off by heading to the Eastern Isles for a gorgeous final dive playing with seals.
All in all a fantastic week. A big thank you to the folk from BANSAC, who could not have been more welcoming, and particularly to Louise Wallace for pulling the whole trip together. And of course, a huge thank you to our fantastic skipper Jolene. Sadly, it was Jo's final season on the Moonshadow. We wish her well in her new venture. But it looks like its back to arguing over the echo sounder in a RIB for us 🙁