This March, seven intrepid divers visited the Midlands Diving Chamber. The chamber is based in Rugby hospital and facilitates NHS funded recompression after diving related incidents as well as offering oxygen therapy for a number of ailments, sports related healing and informative dry dives.
Intros out of the way, Robbie our hyperbaric technician gave us all the fun facts on DCI's symptoms, signs and what to do. A great intro for those newer divers but also a fantastic refresh for all on the facilities available to us. Chris B however, was more impressed at the pizza delivery options whilst in the chamber so if he soon goes missing, we know where to find him.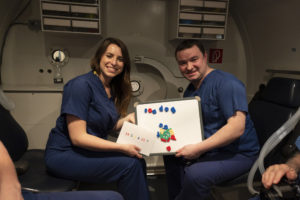 All scrubbed up, we headed into the chamber to begin our descent to 50m. The descent seemed to take forever but the affects soon kicked in with squeaky voices and lots of laughter all round. We were set a task at 50m and again at 6m which really showed the difference in our abilities. We all passed though…eventually. It was a great way to test our ability at depth in a safe and dry environment giving the newer divers a good heads up as to the effects of nitrogen narcosis.
Once we'd finished our ascent to land level on O2, Robbie gave us a tour of the facilities and showed us exactly what happens on the outside whilst we're in the chamber and how they look after us.
The trip was great fun and a really important opportunity to see how each diver is affected individually and also how our buddies may react so they can be better prepared in the water.