We had such a great time last year I decided to run the trip again this year and it didn't disappoint. I booked 4 days diving with DiveStay at Eyemouth. One of the great things about this company is that they own the accommodation as well as the boat so if the trip has to be cancelled beforehand or shortened due to weather then not only don't you pay for the diving (obviously) but you also don't have to pay anything for the B&B, a thing to consider if booking diving and accommodation separately.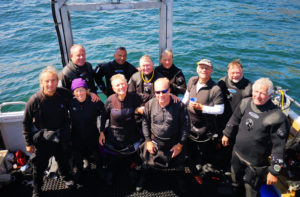 There were 12 of us on the trip: Pauls N and S; Peters T and V; David, Jon A, Sophie and Chris H, Mark, Miles, Hilary and me, Sally. Hilary didn't dive but made full use of her National Trust Card, exercising it daily at the many NT properties in the vicinity. Sophie didn't dive either but came on the boat and had a great time snorkeling and bird watching, sometimes simultaneously, whilst the rest of us were diving.
This year we were on Dive Boat Wavedancer, with owner Gary as Skipper and crew James (Trainee skipper) and Douggie an ex-whaler with many a tale to tell. He had been the "explosives man"; hard to believe from such a sweet natured chap. Douggie certainly put the "aye" in Eyemouth. In joke.
Now, I like a boat with a dive lift and loo. Wavedancer has a double dive lift and two loos!! The photo shows Jon and Paul N alighting from the oggin.
On our first diving day we dived the Wuddy Swimthroughs and later on Burnmouth Caves. I was with Paul Nash and on this second dive, after visiting the cave we were dropped near, we found a particularly long, fairly narrow cave further round the cliff which led us deep into the rock, culminating in a larger chamber. We were quite shallow at this point but deep inside the cave. We both felt rather uneasy on our swim back to the entrance as it occurred to us that, although we had good torches, there was a chance we might end up down some blind alley that we hadn't noticed on our way in. Happily we eventually saw the light of the entrance and upon surfacing found razorbills nesting in the cliff ledges above us. Finning out away from the rocks we had to avoid the inevitable sploots landing in the sea all around us.
On Saturday we had a long boat journey North to dive around The Isle of May and Bass Rock. We broke the outbound journey by diving the wreck of the River Garry. An interesting wreck which although not in one piece had recognisable "boaty" parts on it and a fairly intact hull.
On reaching the Isle of May, Gary drove us round to see the huge colonies of seabirds nesting on the cliffs, razorbills, gannets, guillemots and the odd puffin. We dived the wreck of the Anleby, very broken up but with a propeller to touch for luck before finning off to the reef area. Miles and I finished the dive with a pleasant drift. Bass Rock, our third dive of the day is home to the largest gannet colony in the world, some 150,000 at peak season. Yes and they were all there today, we counted! Some were actually swimming around with us at 6m whilst we were on our safety stop.
Eyemouth harbour is home to 2 or 3 resident seals, great big ugly beggars with scarred noses presumably from propeller encounters. On our return each day they followed our boat up from the harbour entrance whilst Douggie fed them the mackerel he had caught whilst we were diving.
We couldn't dive on the Sunday as Gary informed us at breakfast that Wavedancer had broken down. He was confident that he could make the necessary repairs to dive the next day. So day off! Between us we scatter bombed the area visiting various places including Bamborough Castle, Seahouses, Alnwick Castle, Berwick and St Abbs village; although some stayed locally and watched the Wimbledon and/or cricket finals. The coastline round Northumberland and the Scottish Borders is beautiful both below and above the water with wide expanses of beach and unspoilt scenery. It was very unusual to be able to sight see in such glorious weather, sunny and dry. Normally, an enforced non-diving day is due to bad weather so any sight-seeing is normally carried out in gales and torrential rain.
Monday, boat fixed, we were back on track. The sea state had become a little unsettled these last 2 days and we weren't able to dive a couple of the sites he had planned, but Gary found 2 calm dive sites to finish off our trip. Firstly, The Peanut Wreck (no nut allergy warning signs were evident to Peter V and I!) and Petticowick, then Leiga Buss. The last dive was my 1400 dive and as I am in the habit of celebrating the hundreds, I had brought a bottle of rum on board, appropriately named Dead Man's Fingers, to share with everyone (after diving of course). A pod of dolphins joined us on our return to Eyemouth this last afternoon, which is always a delight.
Throughout our trip the viz had been good and the water temperature felt warm although, according to my computer it varied between 10 and 18 degrees from dive site to dive site! After diving, we had enjoyed eating and drinking in the local hostelries in Eyemouth, all within a 5 minute walk of our B&B, The Ship, which itself was just across the harbour from our boat. All very handy! Thank you to my fellow trippers for your excellent company and cooperation throughout the trip.
Editor's note: And thank you, Sally, for not only organising a fantastic trip, but getting a trip report in so promptly too! I had a fantastic time, and seeing a guillemot swim past me at 12m was an ambition realised. Here are a few more photos from both above and beneath the waves to whet all your appetites ready for next year.