In the spirit of optimism and courage in adversity it behoves Stratford Dive Club to finish each year off with the Annual Mince Pie Dive—a day of diving and face stuffing in equal measure.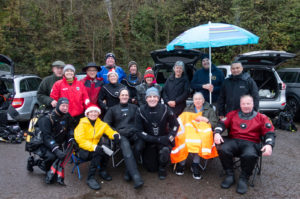 This year, despite monsoon conditions we had the best turnout we have ever had for this event. 13 Stratford divers braved the cold, murky waters at Stoney Cove: Alastair, Andy D, Chris Bradbury, Chris Butterfield, Chris H, Denise, Miles, Natalie, Paul N, Peter T, Simon W, Sophie and me (Sally). We also had 3 on-land supporters: Hilary, Peter N and Les.
Yes, so it rained… ALL DAY. But at least it was warm rain, and we were there to get wet after all. Some were wetter, and therefore colder, than others. Hats off (not literally, too cold) to Denise and Natalie who were in wet suits!
We dived in pairs or threes and between us we visited most of the sunken objets d'art on the 21m plateau and the 6m shelf, with a short foray down to 26m for Simon to do some depth progression. Some saw lots of pike, others none. The viz, which had been quite good recently, was rather disappointing, probably due to the near biblical rain of late.
After the first dive we got down to the serious business of sharing in the festive fodder which everyone had brought. As well as the eponymous mince pies there were sausage rolls, stollen, panettone, fruit cake, hot chocolate etc. etc. I was very proud of us all for continuing to stand out in the rain by our cars to eat the Christmas comestibles, rather than take refuge under the awning near the café. It happened to be Chris Butterfield's birthday that day so we had a rousing chorus of Happy Birthday for him, and another for Sophie, whose birthday it was the day before.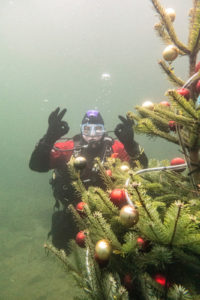 Some divers did one dive, others two, Miles did three!! Albeit his second was a short, shallow one. How so? The Leicester Scouts had submerged a Christmas tree complete with baubles on the 6m shelf near the slipway. After the first dive Stoney's Marg Baldwin elicited Miles's help to do some running repairs to the webcam which is apparently focused on it.
Diving done, we naturally repaired to Nemo's for liberal amounts of libation and a lot of chat.
Thanks to all for taking part and making it an enjoyable and successful pre-Christmas ritual. I will be busy over Christmas building an Ark!