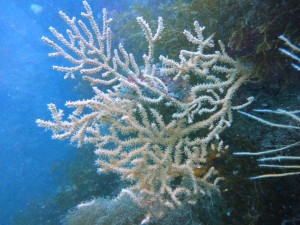 We had a weekend of wonderful diving and landmarks reached in Pembrokeshire this year, all organised for us by Peter Neal. Twelve of us stayed at a lovely bunkhouse on Upper Neeston Farm and dived from the dive boat Overdale around Skomer and Skokholm Islands and in the Skomer Marine Conservation Zone. We got in four fabulous dives—two wrecks near the islands, a paddle steamer and The Lucy, and two reefs just off the mainland.
The area is a 'no take' zone so the wildlife is abundant and there are many large lobsters, scallops and lots of dogfish. There were rumours of octopus (but I'm not sure they were more than rumours) and Chris Hastie and I saw a 'parachuting' spider crab float down off the wall and land in a puff of silt in front of us!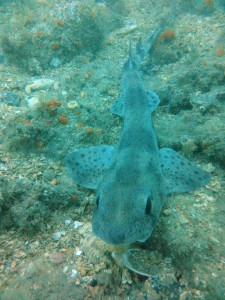 That mucked up the viz and it had just settled down after the others passed! There were plenty of seals—Mark Jeffrey and Clive Shepherd had one join them when they went on a photo op dive instead of The Lucy and Brett and Sam Ashford went for a surface interval swim with some. The bird life on the surface was also fantastic. Emerging from the first dive surrounded by puffins was an ambition fulfilled for me, and they're not scared when you're just a head bobbing at their level.
After our last dive on the second day Sally produced three bottles of fizz to celebrate her and Jon Arthur's thousandth dive and Lynne Bunker's one hundredth dive. Chris and I had just completed our Sports Diver Course so we got a toast too and then we remembered that Hilary did her thousandth dive last year… Miles claimed he'd just done his nine thousandth bit I'm not sure anyone believed him. Drinking fizz in the sunshine on a flat sea after some great dives, Skomer Island receding in the distance was brilliant.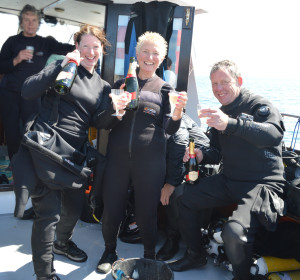 Sadly our last day was blown out. We woke to a howling gale and pouring rain. We met the excellent boat crew to collect our kit and headed home to Warwickshire. It was a sad end to a brilliant trip but the first two days were so great anything mediocre would have been an anticlimax so nobody seemed to really mind. Thanks to Peter Neal for organising such a lovely trip.