We had a fantastic weekend at Porthkerris on the Lizard peninsula. The torrential rain that had fallen the day before we arrived held off, leaving us with three fine days of diving from the catamaran Celtic Kitten. Being on the east side of the peninsula, Porthkerris is sheltered from the prevailing wind and conditions were excellent for the whole trip.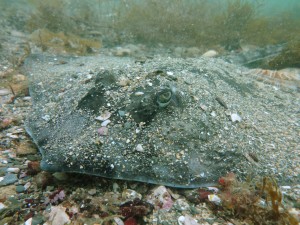 We dived a couple of wrecks, the Volnay and the Mohegan, several reefs and pinnacles, of which Penwin was particularly stunning, and had a lovely long, shallow bimble about in the Helford River looking for thornback rays. A few of us also did a shore dive around Drawna Rock, where there were cuttlefish to be seen, and our final dive was a rather exhilarating fast drift dive at Black Head.
The diving at Porthkerris is well run and efficient, making for a relaxing time for all. The Kitten picked us up from the beach and took us out to the dive site each morning, returning us for lunch and just long enough to get cylinders blown. Then she came back to collect us and we headed out again for the afternoon. There was no faffing about and the skipper got the shot spot on the mark first time each time. It could hardly have been easier! The one downside to Porthkerris, though, is the steep shelf on the beach. Struggling back up with all our SCUBA gear on certainly strained the calves, and a few of us looked jealously towards a group of freedivers hanging around on the beach unencumbered by equipment!
Most of the group stayed in a very plush log cabin, with a few choosing to camp or stay in alternative accommodation. Sophie and I had a fantastic morning view from our tent at the top of the cliff, looking out east across the sea. Despite the long walk to the loos, this may be my new favourite UK mainland campsite1.
It seems as if every trip has to have its celebrations, and this was no exception. Hilary celebrated an undisclosed birthday, both Sophie and I made our 100th dives, and Ellen finished her Sports Diver training. All in all a fantastic trip—big thanks to Mark and Helen for organising it all.
And here are some photos…
I have to say mainland, because nothing is ever going to beat the Isles of Scilly! [↩]