The divers
The annual trip to the Isles of Scilly in June included all the usual suspect with one or two new additions: Rich Wells, Stan Russell, Mark Jeffreys, Pete Virgo, Jon Arthur, Andy Bacon, Hilary Wilson, Miles Howarth, Chris Prichard, Clare Virgo, Geoff Russell, Pete Talbot and Adrian Taylor.
Camping and catering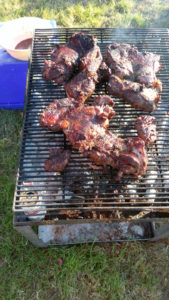 As usual we camped at Troy Town Camp Site owned by the Hicks family who have been the most welcoming hosts on St Agnes for every visit that we have made. Geoff and Stan looked after the food with considerable assistance from Baco and we ate like lords except for the nights when we had to make do with lobster, crayfish, steak and Cullen Skink or as Pete Talbot insisted on calling it for the entire holiday "Skullen Kink".
Diving
The weather during the first few days was pretty windy and not much diving was done. Then the weather improved and the sun set just to the north of the Isle of Annette providing us with stunning views. Things continued improving and we were treated to many fine sunsets. We went out to watch the gig race, fed the birds, and went diving.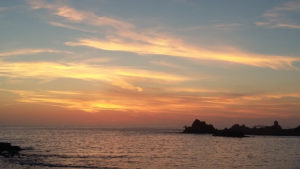 There were dives on a lot of wrecks, The Italia, The Plympton and Hathor and there were a few dives on the magnificent wall of jewel and plumose anemones at Trenemene which, when the sun is in the right position, must be in the running for the best dive in England. We also got up just after dawn one morning to get out to the distant Crim Rocks to catch the tide but even then we were too late.
Clare did her first sea dive amongst the kelp in the bay but then had more fun on the protected wreck of The Colossus.
The non-diving
Jon A was so sick that we waited four days before we considered calling a doctor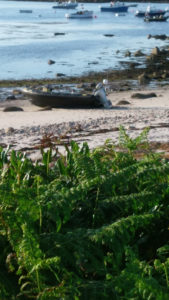 Hilary did an impersonation of KP with her tractor driving but we'd like to know how can you get into road rage when there are only 6 cars on the island?
The hot weather continued and it forced Stan and Baco to take a cooling bob up and down.
Finally, thanks again to Richard for organising another wonderful trip and for reserving our place with the Hicks for 2018.
Actually, that's not the finale. I nearly forgot to tell you how Pete Talbot dropped his pony cylinder, complete with contents gauge and regulator, over the tube of the boat into 20 metres of water. He was so lucky that his friends dived immediatly and recovered it to save his blushes.
This was the day before he recounted how he had once told Debbie that whilst working at a school in Birmingham she was getting a bit of a twang and that she should consider leaving…
Happy Safe Diving
Thanks to Adrian, Jeffers, Baco, Richard and Miles for the photos.