Hillary, Miles, Richard, Stan, Peter, Graham, Russel, Jim, David, Sally, Geoff, Joules, Paul, Jon, Jeanie, Bondie, Brett and myself, all met outside the leisure centre to wait for a coach which unbeknown to us was to arrive 45 minutes late. But due to Hillary's awesome planning skills we still made it to Gatwick with time for a burger and a pint with the Jersey contingent consisting of Tim, Angela and Karl, who had arrived at Gatwick a few hours before us. After the drinks were finished we boarded and took off for sunnier climes.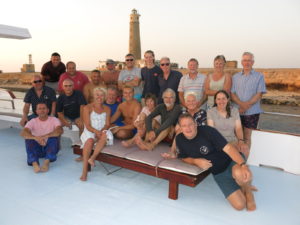 After we landed in Hurgarda and the visas were paid for we all headed for passport security where the Egyptian airport workers had decided that queues were far too organised and efficient so instead they just use crowds, which meant a lot of jockeying for position and waiting around.
When we all finally made it out of the airport we were greeted by our dive guide, Sonia, who whisked us away to our boat, the "Emperor Superior", a four-decked 37m liveaboard which was our home for the next six days. Hillary had organised us to be diving the famous five which included dives on Abu Nuhas, Thistlegorm, Ras Mohamed, Brother Islands, and the Salem Express; however, the Salem Express was vetoed early on due to its unpleasant context.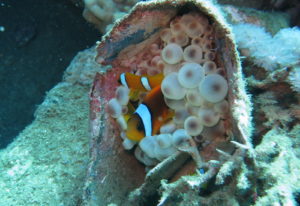 The dives on this trip were amazing; the crew was brilliant, and the food was superb. The only thing less than great was the choppy water which plagued us for the entire trip, causing us to miss out on a few dive sites. Of course, we are British divers so it was not far off normal. In-between the dives most of us spent time watching the crew moor up (zipping over the other 6-10 boats mooring lines by lifting the engine at the last minute), napping, reading, drinking, and for many of us including myself… sitting on the toilet. We had some great evening entertainments provided by Hillary, such as nautical and animal themed quizzes and a balloon modeling competition.
Over the six days we dived 18 times on 3 wrecks (the Thistlegorm, Dunraven, and the wreck of an old emperor diver's boat), and on 9 different reefs, all with a plethora of marine life that you'd expect from the Red Sea, from Green turtles and Picasso fish to Oceanic white tips and batfish. The warm waters were a pleasant change from the British waters we dived this summer. However, the water wasn't as warm as Graham had expected as he had only brought a rash vest to keep him warm. After his first dive, he borrowed Richard's spare shorty for the rest of the week.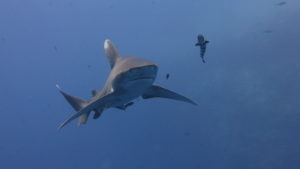 The Brothers provided many great dives, among which was my personal favourite, where some of us (Richard, Stan, Miles, Hillary, Brett, Bondie, Jeanie and myself) floated beneath the boat for nearly an hour watching oceanic white tips swim at us, only turning at the last moment. On one encounter it seemed that for Hillary the shark wasn't going to turn, but fortunately it did at the last second. This great dive only happened because Richard and Stan had been affected by a cold caught from Jon, meaning that for them equalisation became a distant memory, so we had a great shallow dive… 'every cloud' and all that.
During another dive at the Big Brother it was alleged that one of the groups saw a Hammerhead, while another group saw a Thresher shark, but these sightings were never corroborated with photographic evidence and so remain suspect! The current picked up on the Brothers around midday and our boat was moored just outside the more protected areas. On our second dive, as soon as we reached the boat, the current kicked in and it was like swimming on a water treadmill, we were going nowhere, no matter how hard we finned. One by one we managed to grab hold of a small tender tied up on the port side of the boat. A line was eventually trailed from the stern for us to heave ourselves along back to the stern ladders. It was due to this exertion Brett managed to drain his 15ltr to virtually zero (for the second time on the trip). Afterwards we found out that the other group had got completely swept off and had to wait for a pick-up from the ribs.
After six days at sea we made shore in Port Ghalib, where, after washing and organising kit we had a night on the town. However, after six days of waking up at 6am and Sonia insisting that a lie in was getting up at 7am, many of us headed to bed reasonably early to be rested for our 11 hour journey home the next day.
All in all, a wonderful trip. Thank you, Hillary, for organising the trip and thank you Richard for the photos.