Two long term club members both celebrated their 1500th dive within weeks of each other. This was totally coincidental as Sally does most of her diving in Britain whilst Hilary now does all her diving abroad, but they regularly chalk up around the same number of dives each year.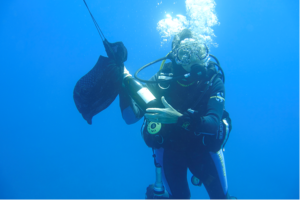 They both celebrated this milestone in Greece, although this was not intentional, they only realised the coincidences on the return trip that Miles and Hilary had organised.
Due to the Covid situation Hilary's Red Sea trip was off the calendar so, desperate to get into warm water, she and Miles went to Alonissos, one of the lesser known Greek islands, to dive the marine reserve.
On her 1500th dive the guides, Dias and Iliana, helped her celebrate by setting off flares, fortunately under the radar of the Greek Coastguard.
Having loved the island and enjoyed the diving so much, she quickly arranged a second trip while no new Covid restrictions were in place.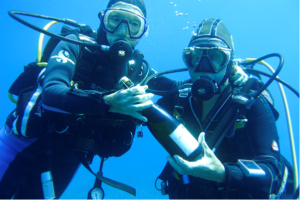 Sally Richards and Chris Bradbury were able to join them at short notice. Sally was delighted when she realised her 1500th dive would be in an exotic location with great visibility, rather than the dark and cold climes of Stoney Cove.
The day arrived, the dive was lovely and when Sally got back under the boat she found a catch bag with a bottle of bubbly which we all shared after the second dive.
Having been friends and dive buddies for over 20 years, we were both thrilled that we could celebrate this milestone together in such a lovely and unlikely place, simply due to the current circumstances.