Following our delayed departure, by several months, there was much excitement to be returning to this little rock in the middle of the Bristol Channel.
Armed with sense of humour, and the ability to change and do things differently, we finally got there, despite sitting on the M5 flyover in a thunderstorm for 4 hours beforehand ( I kid you not) and being woken by the local church bell, every hour on the hour, a good time was had by all .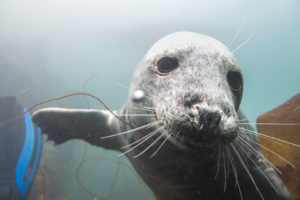 Blessed with sunshine, we were all smiles, once Obsession was loaded—it's only when you're loading a boat with 2 flights of stairs that you realise that we really do have a lot of kit ….a good work out had by all on the Lundy trip, especially with the wonderful walk up the island to the campsite.
The diving again did not disappoint: we all had seal encounters galore .Plenty of time to capture the photos for the next competition …I think I may have serious competitors now  They played with our fins, posed, swan around us and generally showed off . We had some interesting ascents, ask Rob and Sarah, and a lot of flooding masks.
Apparently some lucky wildlife enthusiasts got to see a pup being born, which was a first – shame it wasn't us. 6 dives of blissful seal fun including the always wonderful Carmen Philomena wreck, which never fails to deliver with heaps of marine life, good viz and an abundance of crabs.
The sun sadly was replaced by fog: from the campsite the sea was just a figment of our imaginations. Thankfully walking down to the ocean it cleared, so we could see the dive sites, the boat and Lundy, though not the top of it!! We had smashing dives beneath Europe's biggest granite slope, Devils Slide, a magnet for climbers, also camping. The seals were playing in the gully and it was certainly worth surfacing to look up the rock face.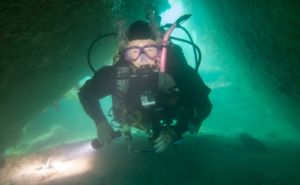 The usual walks were mostly forgotten about, rain and fog, doesn't lend itself to sightseeing, but it didn't stop everyone from having an ace socially distanced (yes) great time. Alcohol helps. The annual pilgrimage to the lighthouse was still on the agenda, and a good time was had by all.
As always, thanks to the gang for pulling together with arrangements, being adaptable, having great laughs along the way and for being fab diving buddies: Teamwork really makes the Dream Work.