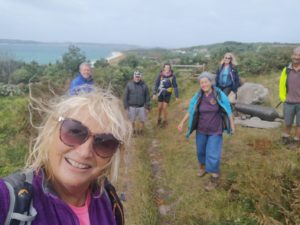 Organising a dive trip to the Isles of Scilly is always a challenging task, but even more so when you have to contend with a global pandemic! No worries, Team Stratford rose to the challenge, and spurred on by the drive of Andy Bacon we managed to find ways to deal with all the new restrictions and challenges. So the excitement mounted amongst our group of intrepid divers as we drew near to our planned trip.
Well if it's not COVID it's the weather. Enter Storm Ellen to scupper our plans. All eyes were on the weather as the date for our departure approached. With two fully laden RHIBs to get across a rather tricky bit of water we needed a decent break in the winds for things to go ahead as planned. And sadly, it just wasn't there. With heavy hearts the decision was taken to call the diving.
There's a lot more to the Isles of Scilly than diving though, and we weren't going to miss out on that. While the RHIBs stayed in the boat yard and the dive kit stayed at home, the RHIB coxes hastily booked ferry tickets and we all headed out for what proved to be a great, if occasionally eventful week sans diving.

In a break with club tradition, this year we stayed on St Martins, where Ben and Caroline of St Martins Campsite made us very welcome. St Martins boasts some fantastic golden beaches, and a range of good eateries to keep us sustained. We explored the beaches and landscape. We enjoyed pub food at the Seven Stones Inn, the best fish and chips in the world, and some excellent cream teas. We took excursions to other islands, and played about on the kayak that Chris and Sophie keep on St Martins. And Chris and Sophie introduced the group to the delights of rum and shrub, with Andy becoming a firm convert.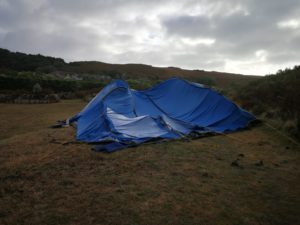 The week's weather was extremely mixed. We had some fantastic days. And hot on the heels of Ellen, we also had Storm Frances. Fortunately the campsite on St Martins is pretty sheltered, but it was certainly not a restful night as our tents were battered by the winds. And not all of them proved up to the challenge—Andy, Holly and Mark lost a pole and finished the night under a collapsed heap of nylon 🙁 The youngsters on the campsite certainly enjoyed the new water feature that weather brought though.
All in all, a thoroughly enjoyable trip, proving that diving isn't everything. A big thanks to Andy for pulling it all together—a huge achievement indeed given the circumstances.