Twelve Stratford Divers headed to Northumberland in early July to dive the clear waters round the Farne Islands. Last year we had only been allowed to have 7 on the boat due to Covid restrictions but happily we had a full complement this year. We were: Hoppo, Peter T, Paul S, Chris H, Sophie, Angie, Chris Bradbury, Simon W, Denise, Jon, Paul N and me (Sally).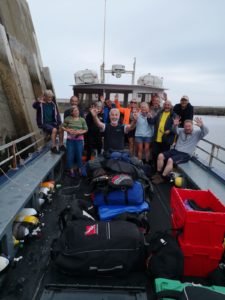 I had booked 4 days diving, 2 dives per day, with Farne Diving Services run by the Hall Family. We stayed in their accommodation in Beadnell and dived from their boat Farne Diver 2, skippered by Lee Hall. This boat has a diver lift, the largest dive deck of any UK dive boat I've been on and a surprisingly spacious toilet facility! However, the wheelhouse being somewhat bijou had a job to contain the myriad bags of dry paraphernalia that we as a group always find essential. Or is it just me!
This year parking on the harbour wall was reinstated so we were able to drive and park right next to where the boat picked us up.
Good news on the puffin front. Bad news on the seal front. As we set out on the first morning we were delighted to see so many puffins and pufflings, both on the water and flying above us. About this time of year they leave the area to live out at sea for the next few months, returning to nest and breed on the many islands, so we were lucky they hadn't gone yet. However, Lee broke the news to us that there were fewer seals around the islands this year and those that were here were not in their usual jovial, playful mood. Last year we had wall to wall seal activity on practically every dive. This year only a few people saw them and they weren't particularly playing ball!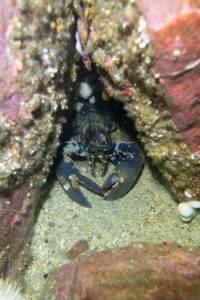 Having said that we had some lovely, easy, scenic dives in very good vis and visited the wreck of The Abyssinia which has a good boiler. The temperature at 12 degrees is cooler than the south coast and I found it got a bit nippy towards the end of our dives, which were customarily about an hour, probably because my suit was leaking.
We saw lobsters, some of them whoppers, ballan wrasse swimming along with us desperately wanting someone to sacrifice an urchin to feed them. No we didn't oblige!! Don't worry I won't go through all the species we saw between us nor will I go through each dive in turn, suffice to say that my favourite dive was actually the first of the trip: Hoppo and I were diving The Pinnacles and after descending we finned along with the reef on our left shoulder for a while as Lee had advised. Attracted by something or other we then decided to go off-piste. We came to a lobster pot which was no longer "attached" to the surface, its rope floating freely in the water covered in squid eggs, so we attempted a rescue mission of any trapped creatures. We opened both ends of the pot.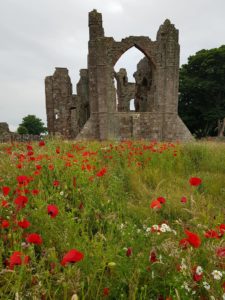 There was only one prisoner, an octopus which despite our attempts at shaking him out refused to budge, so having made sure that both ends of the pot would remain open, we swam off. A little further on we could see a dark shape looming in the distance and wreckage was appearing on the sea bed. The dark shape eventually became a ship's boiler. I love a good boiler! The sides were broken up in some places and we could see the pipes within the structure and fish swimming around inside. Towards the end of this dive when we were ascending, we were joined by guillemots swimming around us as though this was their natural habitat. Back on board I quizzed Lee about this wreck which he hadn't mentioned in the briefing and it seems that we had strayed onto another dive site, the wreck being the St Andre, which he usually does as another dive from a different angle!
As with any dive trip, the après dive activities were very important; not surprising really, when you consider that the whole trip, including travelling there and back, lasted 5 days but only a maximum of 8 hours of this was spent underwater! Our extra mural activities included a trip by cars to Holy Island (Lindisfarne) traversing the Causeway. Between us we scatter bombed the Island, some taking in the castle, others the abbey ruins whilst some went straight to the pub, where we all eventually ended up. I am extremely grateful to those who changed my wheel for me following a puncture, which was not in the plan.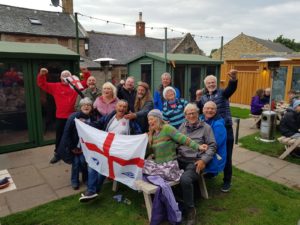 One evening we had a fantastic BBQ on Beadnell Beach, our local beach (you can't say that in the Midlands). Angie was in charge of the organisation and everyone mucked in. From Beadnell Beach you can see Bamburgh Castle in one direction, Dunstanburgh Castle in the other direction, The Longstone Lighthouse on the Outer Farnes in the middle and the castle on Holy Island in the far distance. Quite a panorama. Then of course Sunday night was UEFA cup rinal night and we all ate in the pub garden of The Craster Arms next door to our accommodation as there were two TVs showing the game. Much rum and beer was drunk and we were having a great time until… well let's draw a line underneath it shall we?
On Monday, our last diving day, Denise and Simon both managed to get skills signed off towards their qualifications. Denise did her DSMB Launch and Simon demonstrated dive leading skills. Congratulations to them both.
I think everyone had an enjoyable time both below and above the water and I would like to thank my fellow divers for their good company, support and cooperation during the trip.