12 of us made the trip down to Swanage for a great (if slightly soggy and windy) long weekend's diving. Only one (Sally) had the foresight to book into a B&B, the rest of us endured a variety of sleepless nights, in the unseasonal wind and rain, in our tents.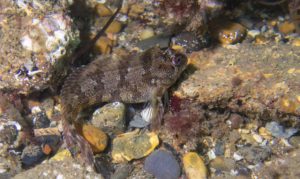 Friday morning saw us dive under Swanage Pier—an old favourite, with lots of marine life that the writer is too ignorant to be able to name—there was definitely lots of it though. Chris and Sophie even managed an 86 minute dive (and Sophie still had about as much air left as she started with). In the late morning we were joined by our special guests Andy D, Jon A and Nigel (more about him later).
Friday afternoon saw more pier diving with Chris H perfectly demonstrating how to use a distance line as we bimbled about in 3m of water, totally lost.
A cracking meal followed that evening in the The 1859 Pier Cafe & Bistro.
A ridiculously early start on Saturday (although it didn't matter for most of us as we'd been awake most of the night waiting for our tents to blow down), saw us head out on Viper with Swanage Boat Charters, ably skippered by Sinbad. We did 2 dives: a drift dive on the Peverill Ledges followed by a gentle potter on Tanville Ledge. Another special mention to Chris and Sophie who were the only ones to actually stay on the Tanville Ledge, the rest of us roamed the sea bed like the free spirits we like to think we are. Poor old Sinbad didn't know which way to look; there were DSMBs popping up all over the place!
A special shout out to Abi and Johnny, for whom these were the first hard boat dives – they handled them with aplomb and returned with broad smiles after both dives.
Meanwhile, remember Nigel? He had hung around on the Saturday morning in the hope of a dive and managed to get a gig instructing some Ocean Diver trainees for another BSAC club…I'm not quite sure how this came to pass but it seemed to work out well for all involved.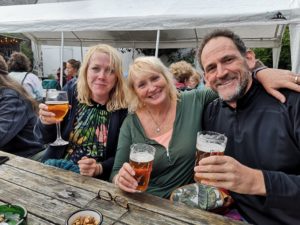 People then did their own thing on land for the remainder of Saturday afternoon until we all mustered at the excellent King's Arms in Langton Matravers on Saturday evening for a little refreshment.
Sally (B&B) wouldn't have known this, but it rained pretty hard Saturday night, so everyone was a bit shell-shocked when we re-gathered on Swanage Pier on Sunday late morning. There were certainly a few bleary eyes around the place. Time for another dive on Viper, this time skippered by the affable Bryan, to the Fleur de Lys. It was another good dive and the Fleur was teeming with life, but the viz was a bit mucky due to the rain and the wind.
We were back on dry land by mid afternoon. Some headed home, others loitered a while enjoying the fleeting sunshine, and fish and chips.
Overall it was a fun trip of easy diving, with a good bunch of like-minded divers.
Finally, a very special mention to Bryan at Swanage Boat Charters for jiggling everything around to fit our planned 3 dives in, despite the weather.