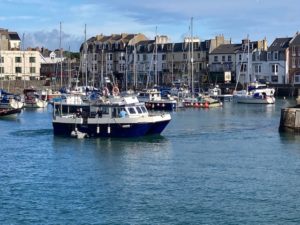 Thursday evening came and it was down the M5 to Ilfracombe! We arrived as the sun was setting, and parked about as far away from the pub as we could get! A warm wander around the town and eventually with the assistance of Google (other apps are available) we found our way to Wetherspoons and our diving companions for the weekend. A few bevvies, a jog in the torrential rain and a comfortable night's kip at the Ocean Backpackers (although some of us were rudely awakened by the bloody seagulls!) meant we were ready to meet our boat, the Obsession II, bright and early and ready to spend the day diving with underwater Labradors!
After a slightly bumpy crossing with a brief dolphin visit, we dropped off the camping supplies and headed for Seal Beach which didn't disappoint! After plenty of flipper action and an encounter in a cave we moved on to a lovely dive around Knoll Pins – sightings of various species of jellyfish, a shoal of bib, an abundance of sea cucumbers and some more seals!
Back to camp…well back to build camp! Procrastination in the shop wouldn't prevent the necessary vexation of putting up tents in a gale so we set to—teamwork makes the dream work was the phrase of the day and after some dallying with tent parascending we settled in for our BBQ'd feast (thanks to Jon and Nick!). A few of us headed to the lighthouse after dinner and came across a lovely trio with a ukulele who we joined in drowning out the wind with classics from Creedence Clearwater Revival and Radiohead!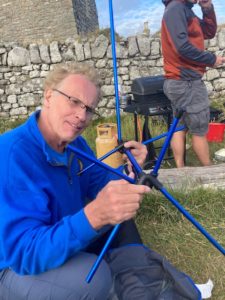 We can't lie—it was blowy! There were some tent casualties in the night but we survived and it didn't dampen our spirits for a pleasant 10-14m drift dive from Seal Beach, although Angie's very wet entry led to debate about the importance of trust in diving, or not! Then after lunch, we had the privilege of diving the protected wrecks of the Robert, a crew coaster which capsized in 1975, and the rather broken up Iona II—a luxury paddle steamer which sank in 1894 after 13 of its crew mutinied! Nigel tried to coax Jamie into the hold of the Robert with his searchlight torch, some had the pleasure of encountering a beautiful catshark, we had a wonderful view of the bountiful plumose anemones and I had a fright when Batman (aka Nigel) popped out from the side of the hull!
Saturday night saw us holed up in the very welcoming Marisco Tavern—good food, laughs and company; we were down a Nigel as he'd wandered off on a marathon 4-mile coastal walk which made him late for dinner! Under Andy Bacon's jurisdiction as Judge, we launched into legal proceedings with prosecution (Rob) speaking for Angie and the defence (Jon) speaking for Jamie with regards to the day's earlier "wet entry". It was an interesting insight into everyone's understanding of the British court system but the jury (the rest of us!) declared both parties were equally guilty!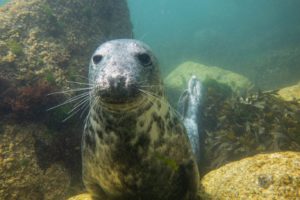 We were in bed early in readiness for the next days adventures. After tents down by 8am followed by breakfast in the pub we were back on the boat to Gannetts Bay—the sun may have been shining, but the wind wasn't in our favour so as Andy (the skipper) and Matt explained, although they could get us in to the water anywhere on the island, this was the only dive site where they could get us out again! Luckily for us, the seals had the same idea! Into the water we went with a switch in headgear so Batman became Batwoman (Angie) and we played with the seals for an hour! Heaven! Now I see what everyone was talking about on the first day…this time they were on us! Happily gnawing on a fin, offering their tummies for a belly rub and getting all up in Rob's hair! One even bit through Angie's GoPro housing! They were so playful; we all loved our interactions with them. What an experience!
A completely full-on weekend but totally worth it! For those of us whose visit to Lundy was a first and those who were veterans, we all understand why Lundy is a magical place—from its landscape, its wildlife to its culture, it's a place to slow down and enjoy what we love doing best…dragging ourselves through the reeds in the most ungainly of fashions to play with furry and neoprene clad friends alike!