The trip had been planned as an introduction to sea diving for us newly qualified divers, so appropriately, we arrived at Swanage Pier on Friday morning to find unexpectedly rough seas and no visibility. The first lesson in UK sea diving; you can't depend on the weather.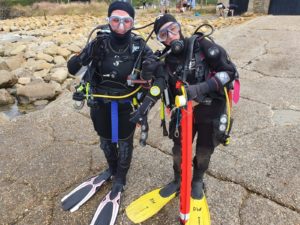 Not to be defeated, we headed around the coast to the more sheltered waters of Kimmeridge Bay, and down the slip for what for some of us would be our first dive in UK seas. Certainly not a challenging one, at just 2 metres, but a chance to do our weight checks, try out some new kit and get used to diving in the sea.
At the end of the dive, Luca tore a drysuit seal which threatened to throw a spanner in the works, but the ever resourceful Chris Bradbury was able to repair it with just some glue and a pint glass. Another important learning opportunity.
The following day we met again at the pier, this time to find much better conditions, allowing for good long dives under the pier, with plenty to see. After filling our cylinders and stomachs, it was time for our first boat dive. A big moment for some of us. We were diving from the Mary Jo, skippered by the friendly and patient Bryan from Swanage Boat Charters. We headed out to the Tanville Ledge, a rocky reef in the middle of the bay in about 10 metres of water. A nice easy shallow dive, and a perfect introduction to boat diving.
We had two more boat dives planned for the last day of the trip, with the first at seven AM, so we could dive on the slack water. Again we assembled on the pier, looking slightly bleary eyed, and set off for the Valentine Tanks; a pair of experimental World War Two 'floating tanks' that were less than successful…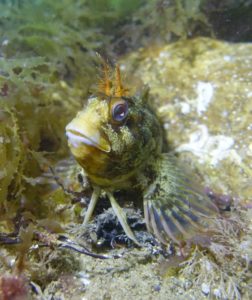 We descended down the shot in good vis, and followed the line along the sea bed, passing starfish and spider crabs, to find the first tank. WOW!
The tanks themselves were fairly broken up, but absolutely teeming with life wherever you shone your light. Huge conger eels looked out at us from the wreckage, and shoals of fish (bib) circled around, seemingly uninterested in us. This was a real highlight of the trip, and made the early start almost worthwhile.
After a couple of hours back at the pier, we were off again for our second dive of the day, the Fleur de Lys, a wrecked 64' fishing trawler. By now the swell had picked up and the vis had dropped, making this a bit more challenging than the previous dive, but very enjoyable, with plenty to explore.
Back on dry land, we packed up and said our goodbyes, tired but happy, and already thinking about the next trip. A huge thank you to Simon Watkins, and all the instructors and senior buddies for making this such a great experience for us newbies.