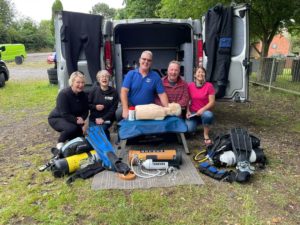 As we are all aware, our instructors are overworked at the moment and have been putting in long hours in the pool, classroom and Stoney/Cromhall both catching up on the COVID backlog and getting our new trainees through their courses. So with this in mind Natalie, Denise and I organised a training day with Bob Huyton (West Mids Regional Coach) and his partner Liz at Dosthill.
The plan was to focus on the CBL/Rescue skills modules for me (DL) and for Natalie and Denise (SD). Bob and Liz brought their resus Annie and O2 cylinder and we spent 45 minutes on dry land going through the principles of in-water rescue breaths, getting incapacitated divers out of the water,  CPR and O2 admin – it was a very useful reminder for all of us.  I did my DL rescue skills first as it was the deepest dive of the day then Denise did hers and finally it was Natalie's turn. We all did some on-land rescue practice and Natalie and Denise were willing participants as I did some rescue management skills too. All in all it was a great day – it was interesting to work with different instructors and learn how they do things. We all got our skills signed off which means Denise has now finished her Sports Diver and Natalie and I only have a couple more skills to complete for our respective qualifications.
If you a looking at getting some skills signed off and don't want to add to our instructors' current workload, I'd definitely recommend contacting Bob Huyton to see what the West Mids coaching team might be able to offer. They ran a Diver Training Day at Cromhall
recently to help SD and DL trainees get through certain elements of their courses and plan on doing some more of them later this year – so check out the events section of the BSAC website regularly to see when these are scheduled.