All the stars were in alignment this year on what has turned out to be the third consecutive Farne Islands trip: The sea was flat calm. The viz was wonderful, easily 5 to 6m, and the sunlight penetrating deep into the water illuminated the watery depths perfectly. In fact we had wall to wall sunshine not just during the day but well into the evening, so much so that although we saw huge lobsters hiding in their nooks and crannies underwater, by far the biggest lobsters were on the boat: our own glowing red faces! Sunscreen and hats became the norm. The water temperature at 13°C was warmer than the previous 2 years. This may sound cold to some but this is Northumberland, therefore the North Sea, which is colder than South Coast.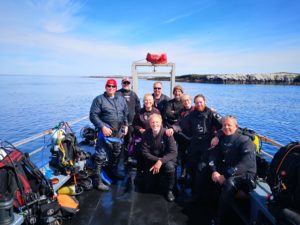 So who were "the WE" that I keep mentioning above? We lucky people were Alastair, Andy D, Chris Bradbury, Chris H, Denise, Jon A, Josh, Simon W and me, Sally. The one person missing from our happy band was Sophie who was unfortunately laid low with a lurgy. I had booked the same dive company as in previous years: 4 days diving, 2 boat dives per day, Friday to Monday inclusive, with Farne Diving Services, which is owned by Lee Hall and his family, as was our accommodation in Beadnell.
Our dive boat, Farne Diver 2, skippered by Lee, is equipped with a diver lift and loo and is moored in Seahouses, about a five minute drive from our accommodation. Each morning we would leave the harbour and head out to the many islands which make up the Farnes. Easily visible from the harbour the innermost islands are a short 20 minute journey the outer islands about 40 minutes. We could tell that we were nearing the islands even whilst busily engaged putting our kit together because of the pervasive poo pong of the many seabirds living there. There is currently an outbreak of the deadly bird flu on the Farnes which is preventing bird watchers landing on the islands. Happily, there didn't appear to me to be any reduction in bird numbers or species.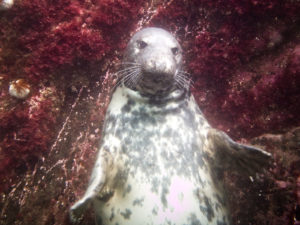 We dived a different dive site each dive, mostly reefs, walls and plateaux but also two notable wrecks and this year we had SEALS! Hooray. It is a huge delight to see them sprawled out on the rocks basking in the sunshine, but how fantastic to see them revelling in their own effortless agility as they glide and spin underwater. I'm sure they're saying "wheeee, look at me!" We had a discussion on board as to how deep seals would go. Well, Jon, Alastair and I were diving one morning on a beautiful plateau covered in white Dead Men's Fingers when I looked to my left and found a seal right next to me, eyeball to eyeball at about 27m.
Although seals are always the scene-stealers other marine life is available! We were lucky to have so many good photographers in the group to record our sightings. Lobsters, crabs and the ubiquitous urchins; sunstars, squat lobsters with their orange and blue bodies, both normal ones and the long clawed versions (thanks Denise, for the post trip identification of the latter). Fishwise, we saw wrasse, mostly Ballan wrasse and the odd gurnard. There were more jellyfish than usual of many types including the delightful comb jellyfish with its iridescent lights. (OK apparently it's not strictly a jellyfish). Josh and I had a close encounter with a lion's mane jellyfish, some of its finer tentacles extending almost two metres away from its body. Alastair and Josh saw a sea snake! No they didn't. On interrogation it was probably a very long butterfish… or was it?!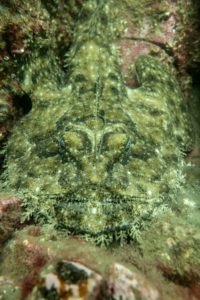 One highlight for Chris Bradbury was not only celebrating his 300th dive but on that dive seeing and photographing a gigantic angler fish (monkfish), henceforth to be known as "The Angler Fish". It was so superbly camouflaged on its rocky shelf that I only spotted it by the lure waving about above its head. I then noticed a mouth, then eyes and lastly a tail extending far behind and up against the rock. I think Chris thought I'd gone mad when I tried to show him until hey presto, he got it too. Once we made it out it was impossible not to see.
We were lucky enough that conditions were right to dive the Somali, a wreck at 30m which sank in 1941 having been bombed by German Heinkel bombers. It is actually owned by our skipper Lee's family. They bought it many years ago so that it could be used for dive groups rather than being salvaged. Other dive groups are allowed on it, indeed we used another dive boat's shot line to descend. It has no permanent shot. Their shot was unfortunately in the hold, which was very broken up but everyone scattered and had a good look around various areas and there were some very good intact and recognisable, to some, boaty bits. (I'm no engineer). The multifarious cargo had included medicine bottles and cosmetic bottles and Andy came up with two very unusually shaped bottles. Air constraints and deco considerations made this a shorter dive than our others, which mostly were between 50 minutes and an hour.
It's not all about diving and we took advantage of the lovely warm, sunny evenings to have some extra mural activities. On Saturday evening we had a BBQ on Beadnell beach. Alastair had brought the new smaller club BBQ and we bought provisions in Seahouses. Having brought his monster truck with him, the advance party went down with all the stuff to get the BBQ lit and enjoy a bevvy on the beach whilst getting the Jacket potatoes underway. The rest of us followed on foot, only a short walk from our digs. We enjoyed fantastic food and drink in the beautiful surroundings in the evening sunshine. As on all evenings we rounded off each day sitting together outside our rooms with hot chocolate and rum. Double cream too a couple of times for added decadence.
On Sunday evening we headed further north up the coast in two cars to visit Holy Island (Lindisfarne), this being the evening that would give us the maximum time on the island before the causeway would flood and maroon us for the night. Resisting the temptation to head straight for the pub, we all instead chose to walk alongside the water to the walled garden, some via the Castle. The garden designed by Gertrude Jekyll was so impressive, colourful and aromatic that I think it delighted even those not normally of a horticultural bent. Chris H had a "video conference" with the absent Sophie so that she was able to see the garden again, having loved it on a previous visit. Thence to another garden, the Beer Garden at The Ship Inn!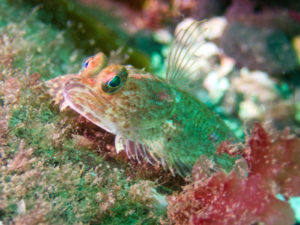 We had some "firsts" on this trip. It was Josh's first UK dive trip on a hard boat. Simon completed his 30m Depth Progression, diving with Chris H on The Somali and also did his DSMB launch for DO1. Denise completed her 30M Depth Progression. On a personal note I saw my first UK Octopus and if it hadn't moved as I passed near it, "standing up" on its tentacles before fleeing across the rocks, I wouldn't have seen it at all. Why didn't it trust its own camouflage?
Diving done, 6 divers stayed over on Monday night, 4 of us intending to do a shore dive at Beadnell. Simon had discovered that there are at least 2 very good shore dives there, which were highly recommended by local divers. They are best done on high tide, which for us would have meant diving on Tuesday afternoon by which time we all wanted to be well on the way home. So, Simon, Denise, Andy and I did a recce on Monday evening as this would have the same tidal condition as we would be diving the following day at our preferred time of 10AM. We soon realised the tide was out too far, it would be a long walk with kit on, plus hardly enough depth of water so we abandoned the idea and have consigned it to the "to be continued…" file.
It was a lovely trip, both in and out of the water and I want to thank all those on it for their excellent company and good natured cooperation. It made my task as organiser as stress free as possible.