We are the Stratford upon Avon branch of the British Sub Aqua Club, (BSAC). We are a friendly, active scuba diving club based in Stratford upon Avon in Warwickshire.
The Club was founded in 1974 and one of the 6 founding members, Keith Bond, is still a member. Currently, membership hovers around the 65 mark, of whom about a third are women. This makes us one of the larger BSAC branches in the country. Our youngest member is 13 and our oldest now over 80—although not diving now, he is still going strong!
The club owns 2 Rigid Inflatable Boats (RIBs) which, when not in use, are kept in Lyme Regis. We are a pretty active club. Each year, club members do around 1,200 to 1,500 dives. These are from the club RIBs, hard boat hire and overseas trips. In the last couple of years various parties have visited, The Azores, Cuba, The Red Sea (several times), Lanzarote, Gozo, Oman, Thailand, Alexandria, Curaçao, Antigua and Mexico.
In the last few years we have been awarded two grants of £10,000 each from Sport England. The first was used to purchase a portable compressor, so that we can charge our own air cylinders when diving. This has greatly increased our flexibility when choosing dive sites in the UK. The second, was used to fund our extensive training programme. Many members are working towards various instructor qualifications and many levels of diver grades. We continue promote and encourage  additional training for such things as air mixing, boat handling and radio procedures.
Our very active committee comprises a mixture of both more experienced and newer members and we actively encourage all members to get involved in the club's activities.
When and Where We Meet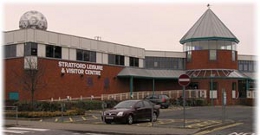 We meet every Thursday at the Stratford Leisure and Visitor Centre, Stratford, Warwickshire, where we have the pool from 8pm to 9pm. This is where we do the basic training for new divers, while others may be trying out new equipment, doing stamina training or just going for a swim. After the pool session we move on to the bar at Stratford Town Football Club, where we are corporate members.