So you've done a try dive and loved it—what next? Simple, join the club and start your scuba journey by training as an Ocean Diver.
Ocean Diver is BSAC's introductory qualification, but is it still a comprehensive course. When you've completed the training, you will be a safe, competent diver, able to dive to 20 metres with divers of at least the same ability as you. You will have learned the essential core skills to enable you to dive calmly, efficiently and safely.
Here's what you need to know about the Ocean Diver course with us…
The course is made up of three elements: pool training, classroom lessons and open water training.
Pool training
The pool training takes place on Thursday evenings at Stratford Leisure Centre from 8.00-9.00 PM. Afterwards, there is a chance to 'rehydrate', debrief and chew the fat with other members in the bar of Stratford Town Football Club.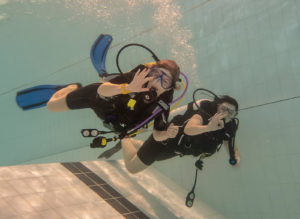 The pool sessions are designed to teach you the basic skills you will need to be a safe diver. Some of the skills you will learn are:
The buddy system (you will always dive with a buddy)
Equipment checks and use
Basic (but very important) dive skills such as buoyancy and finning techniques. Expect to practise these a lot…
Key hand signals (very important as you obviously can't speak underwater!)
Skills such as clearing and replacing your mask underwater, removing and replacing your regulator (the thing you breathe through)
Basic rescue skills
There is no definitive timeframe for this—you should expect to attend the pool and keep practising these skills until your instructor is happy that you can do them to the required standard.
Classroom lessons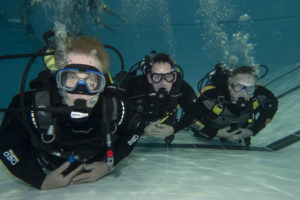 Whilst you are doing the pool sessions, you will also need to attend the classroom lessons. Normally these will take place on a different night of the week to the pool sessions and will generally last for around 1½ hours. The lessons might take place at someone's home, or in a room at the club's base at Stratford Town Football Club. These lessons will take you through key areas including:
How BSAC and the club are structured
How diving affects the body
How to choose, use and maintain dive equipment
Planning dives
Diving safely
You will also have to reinforce these lessons with some home learning/revision. Once you have completed all the classroom lessons there's a short multiple choice test to get through (don't worry about this, it's really not too hard!). When have passed this, you are ready to move on to the Open Water training (hooray—this is what it's all about!).
Open water training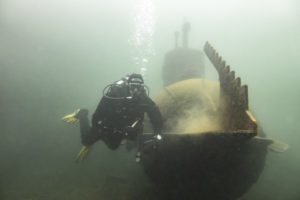 You are likely to do your initial open water training at Stoney Cove—a flooded quarry about a 45 minutes drive from Stratford. We are very lucky to have this facility nearby; people travel from far and wide to train at Stoney Cove.
There are no mysteries to the Open Water training; it's simply a progression of the skills you have learned in the pool and classroom. The only difference is that the diving is a bit more challenging for the following reasons:
You will be diving deeper: your initial sessions will be at up to 6 metres and you will progress to 20 metres by the end of the training
The water will be colder so you will need to dive in either a semi-dry suit, which you can hire for the day from Stoney Cove, or in a drysuit. (You will need some additional training for drysuit diving and many trainees find it easier to complete their training in a semi-dry.)
The visibility won't be as good as in the pool
The open water sessions are where the training begins to feel like real diving—rather than just looking at the bottom of the pool, you will encounter fish, varied terrain and other items of interest (such as a disused plane cockpit and 'Nessie'—a fun model of the Loch Ness monster).
Generally you will do 2 dives each time you visit Stoney Cove—a dive in the morning, followed by a break to refill you cylinder, grab a bacon butty and coffee, then on to your second dive. Afterwards there will be a chance for a debrief and some refreshments in the pub on site.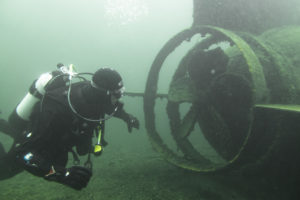 On your first visit you will probably feel a little bit nervous. To help you get used to the new diving environment, your first dive will probably be just an orientation dive. You might do a couple of basic skills during this dive depending on how you feel, but the main point is to have fun!
Once you are feeling comfortable and confident in the water you will practise and develop the skills you learned in the pool and will gradually increase your dive depths until you are able to dive down to 20 metres.
Much like the pool sessions, there is no set timeframe for the open water training—you will progress at the speed you need to progress at. As a minimum, you should expect to go to Stoney Cove on three separate occasions (6 dives) before you qualify. Once you have completed all the open water skills, and everything has been signed off, you will be qualified as an Ocean Diver. Now the real fun begins…