As a novice diver with some 25 dives, the opportunity to experience my first liveaboard in the Red Sea was both daunting and exciting. Thanks to many far more experienced members, the group WhatsApp was filled with handy packing tips and squabbles on the importance of Celine Dion and cake! Off to Birmingham Airport we all went and on arrival at Hurgarda, our first taste of the Egyptian climate and time management commenced…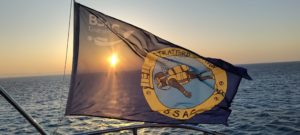 On board the Emperor Superior, we were greeted by our guides Lucy and Salah who got us all settled in, and on completion of gear setup, introduced us to how these liveaboard holidays worked.
Prior, us novices had been forewarned that it was dive, eat, sleep repeat and it did not disappoint. Most morning wake-ups were 5.30-6.30 and that first giant stride into the crystal-clear turquoise waters blew our minds. So much life, akin to jumping into an aquarium tank. I'm hooked!
Over the next 6 days we generally managed 3 or 4 dives a day with meals and snacks in-between thanks to Mahmoud and his team. The food was excellent, and on day three we were treated to a la carte dining with camel steak as the main event. It was delicious! He also managed our extensive bar which we stocked from duty free! Balloon octopuses and hilarious human alphabet fish identification punctuated our evenings hanging out on the sun deck.
We began gently at Poseidon Gardens to check weighting and prove to the guides (and ourselves!) that we could successfully deploy a DSMB, then worked our way up the coast to Abu Nuhas and the Carnatic—a beautiful 1800's steamboat on its side in 25m which you can swim inside to view the stunning glassfish; and Giannis D—a ship which sank in 1983 when it struck the reef and split in two. Up to the Straits of Tiran and Jackson Reef, where we hoped to meet some hammerheads (alas, they declined the invitation), was our first experience of a negative entry and zodiac pick-up. Later, on Gordon Reef, the group went on to do their very first night dive!
Under a clear sky, illuminated by a beautiful full moon, we only had to meander a few meters from the boat to experience stunning shoals of Fusiliers, entertaining lion fish and my highlights, a blue spotted ray feeding, and a teeny tiny cuttlefish tumbling across the sand.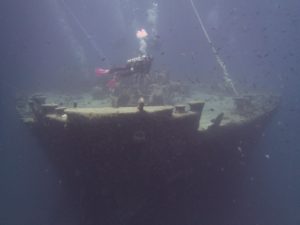 Continuing to Ras Mohamed National Park to Shark and Yolanda reef to see the abundance of life amid the toilets and baths—stories do not prepare you for the comical sight but beware of the scorpion fish should you wish to take a seat! Then the Dunraven where Natalie was treated to a mask to maw encounter with a massive free-swimming moray, and we met the resident crocodile fish and unusual shoaling lion fish.
All these dives built up to the second most popular tourist attraction in Egypt—the Thistlegorm! For those experienced, this was a pilgrimage full of engineering, metal and sea life to a favoured wreck of a British Merchant Navy vessel built in North-East England in 1940, and sunk by a German bomber in 1941. Currents dictated that internal exploration was the only way forward. For some of the novices, this was an opportunity to pop their wreck penetration cherry. Everyone enjoyed a tour of holds containing World War II Land Rovers, motorbikes, welly boots, and for those lucky enough, a view into the day-to-day life of a captain with the surviving bath in his cabin. Confusion over mooring ropes meant Natalie and Pete required the services of a water taxi to return them to the correct boat and a few members had a lengthy surface swim. Our plan for a night dive was abandoned due to current but the following day a morning dive on the wreck allowed us to experience some of the best conditions in years (confirmed by both guides and Thistlegorm veterans) exploring the outside.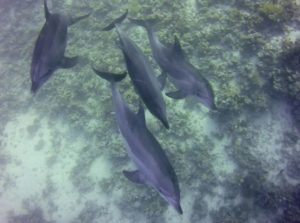 We headed on to the Barge at Gubal Island where after a life filled dive with moray, free-swimming octopus and an abundance of reef critters, we were treated to safety stop visit by a pod of bottlenose dolphins. I have been obsessed with dolphins since I was a child and they were my reason for wanting to become a diver, so this was a bucketlist moment sending me squealing into my regulator! Back on the boat, I became the Cheshire cat for the rest of the day!
Another night at Gubal and a gorgeous drift dive around The Bluff with opportunity to see inside a reef cave – heaven for the photographers in the group! On to Siyul Kebir and then Dolphinhouse where a few of us jumped in with snorkels to play with a couple of bottlenosed friends. Here we did a fabulous night dive where we were treated to a colour show from an enormous hunting octopus and hung out with a hawksbill turtle under the boat! The following day was our last; a gentle dive at Umm Gamar and a final wreck just outside Hurgarda port before a mass rinsing and drying festival. Celebrations were in order for Ben with his 100 dives, Pete Talbot and Chris Hastie with 600 dives apiece and our organiser, Hilary, with a jaw dropping 1700 dives! Congratulations to them all!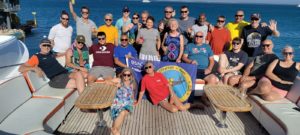 Back on land at the Bella Vista Hotel, Josh, Sophie, Hoppo, Anthony and I partook in a hilarious 'aquarobics' class, and everyone enjoyed all you can eat/drink and some Zs in the sunshine. On arrival at Hurgarda airport, we were treated to the Egyptian security rigmarole, however unfortunately the diving gods had decided we hadn't sufficiently off-gassed so cancelled our flight! Luckily, Tui bussed us to a lovely hotel where unbeknown to us we would spend the entire next day. For Jamie, Ben, and Anthony that gave them many hours of hedonistic joy on the water slides!
Even with the stresses of our unexpected 26 hours delay, nothing could have soured what was a truly fabulous dive trip. Thanks to the expert organisation of Hilary and Simon, we all enjoyed fabulous diving and excellent company. It's not easy keeping a group of 22 mixed level divers happy and engaged and for many, the thrill of introducing us novices to an incredible underwater world was the highlight! Thank you to everyone for sharing their knowledge and being patient—I can now exclaim I've been there, and bought 2 t-shirts!
Who's organising the next one?!